Book: Marketing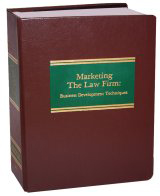 Marketing the Law Firm: Business Development Techniques
Frequently referred to as the "bible" of law firm marketing, Sally's book, Marketing the Law Firm: Business Development Techniques, focuses on the institutional side of marketing, addressing such issues as:
Trends and challenges in law firm marketing
Creating a firm marketing program
Motivating lawyers to participate
Evaluating the effectiveness of marketing activities
Staffing the marketing department
Assessing the advantages and disadvantages of myriad strategies, including Web sites and other electronic communications, client surveys, brochures, newsletters, seminars, advertising, public relations, proposals, law firm networks and more!
Whether your firm has ten lawyers or a thousand, whether you're part of an established marketing committee or have just taken on new marketing responsibilities, Marketing the Law Firm will help you put effective marketing techniques into action at your firm.
From Of Counsel:
"A recipe for success in today's competitive environment."
From a law firm marketing director:
"Sally Schmidt's book, Marketing the Law Firm: Business Development Techniques, is a bible, a must-read and a springboard to law firm marketing for any new or seasoned marketing professional. Its frequent updates are easy to insert and the range of information is nearly exhaustive."
Summary of contents of Marketing the Law Firm:
Chapter 1: Overview of Marketing in a Law Firm
Chapter 2: The Obstacles to Marketing in a Law Firm
Chapter 3: Marketing Analysis and Planning
Chapter 4: Developing a Law Firm Image or "Brand"
Chapter 4A: Selecting Marketing Tools and Activities
Chapter 5: Client Relationship Management and Marketing Information Systems
Chapter 6: Brochures and Collateral Pieces
Chapter 7: Newsletters, Mailings and Other Communications
Chapter 8: Market Research
Chapter 9: Substantive Programs and Client Entertainment
Chapter 10: Advertising and Public Relations
Chapter 11: Proposals, Presentations and Interviews for Business
Chapter 11A: Pricing and Billing Techniques
Chapter 11B: Industry Conferences or Trade Shows
Chapter 11C: Web Sites and On-line Marketing
Chapter 12: Attorney Accountability and Involvement
Chapter 13: Management, Coordination and Support of the Marketing Effort
Chapter 13A: Marketing the Small Law Firm
Chapter 13B: Marketing a New Capability or Office
Chapter 13C: Creating an "Alumni" Relations Program
Chapter 13D: Cross Selling Your Firm's Services
Chapter 13E: Service Quality as a Marketing Strategy
Chapter 13F: Client Service Strategies
Chapter 13G: Creating and Marketing a Law Firm Network
Chapter 14: Conclusion
Marketing the Law Firm is updated twice a year. For further information, or to order the book, please visit the publisher's Web site.